19 Oct 2020
Broadcast Tech Fest 2020 (Day 1): watch now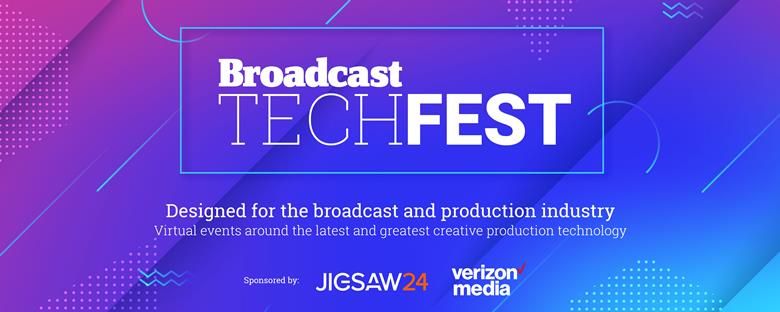 Free streams of all speaker sessions from the first day of Broadcast Tech Fest 2020
ll the sessions from day one of Broadcast Tech Fest 2020 are now available to stream in full on YouTube.
Broadcast Tech Fest was held online on Wednesday and Thursday last week (14-15 October), on virtual conferring platform Hopin.
Day one presented a series of speaker sessions about producing in lockdown, while day two focused on 5G and connectivity.
To stream all the sessions from the first day of Tech Fest, click below.
Chapter markers
Session #1: In conversation with Tania Alexander. 0:05-22:16
Session #2: Producing in Lockdown: Broadcaster panel. 22:17-1:03:24
Session #3: Producing in Lockdown: Post-production panel. 1:03:25-1:49:18
Session #4: Producing in Lockdown: Studios panel. 1:49:19-2:28:14
Session #5: Producing in Lockdown: Producer panel. 2:28:15-3:04:51
The schedule for day one is below.
Session #1 – In conversation with Tania Alexander
Studio Lambert director of factual entertainment Tania Alexander shares exclusive insights with Broadcast Tech editor Jake Bickerton about how the production of Channel 4's Gogglebox continued despite a series of challenges posed by the pandemic.
Session #2 – Producing in lockdown: Broadcaster panel
Speakers
Katherine Gumeniuk, senior director, Sky Sports
Morwen Williams, head of UK ops, BBC News
Mohammed Akhlaq, chief technology officer, ITN
Chair Chris Curtis, editor in chief, Broadcast
An enlightening discussion about how different broadcasters responded to the Covid-19 crisis. The session focuses on how, almost overnight, all broadcasters were forced to establish new, complex remote production operations, and find new ways to create compelling content in the most challenging of circumstances.
Session #3 – Producing in lockdown: Post-production panel
Speakers
Emma Butt, ADR recording and sound editor, freelance
Zeb Achonu, TV/film editor, freelance
Aidan Farrell, senior colourist and head of grading, The Farm Group
Olly Strous, director of post production, ITN
Chair Jake Bickerton, editor, Broadcast Tech
Hear how post facilities and freelance operators had to overhaul their services and ways of working the moment lockdown hit. The panel also discusses the longer-term impact of the pandemic on the post-production sector and how new hybrid workflows are being established to enable more flexible working environments for clients and staff.
Session #4 – Producing in lockdown: Studios panel
Speakers
Andy Waters, head of studios, Dock 10
Cara Sheppard, managing director, Twickenham Studios
John O'Callaghan, operations director, BBC Studioworks
Roger Morris, managing director, Elstree Studios
Chair Heather Fallon, media researcher, Commissioner Index
This session discusses how studios have coped with the sweeping changes demanded by the return to production post-lockdown. What do the new procedures for filming on-set mean for clients? How will the requirement for social distancing and the practicalities of this impact the business model of studios?
Session #5 – Producing in lockdown: Producer panel
Speakers
Jan Younghusband, head of commissioning, music TV, BBC
Chris Jones, head of branded content, Electric Robin
Erron Gordon, series director for Good Morning Britain and Peston, ITV
Richard Frediani, editor, BBC Breakfast
Chair Alice Redman, senior media researcher, Commissioner Index
With workflows transitioning to remote working as soon as lockdown came into effect, this panel investigates how production companies were able to complete projects and continue working on their slate of productions. What content was created and how did technology enable this to happen, and what were the best examples of lockdown productions? The panel also discusses how the production industry will be able to get back on track again over the coming year.
Day 2 of Tech Fest will be available later this week.
Broadcast Tech's sister title Broadcast Sport is running a two-day virtual festival in November - to find out more, and sign up to this event, head over to http://www.broadcasttech.co.uk/sport