05 May 2020
Rise Mentee 2020: Joanna Taylor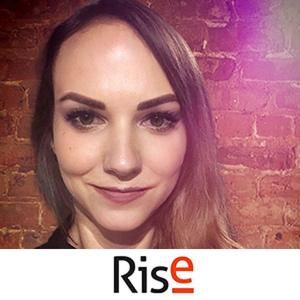 Joanna is currently working for Sky as a Software Engineer.
How did you get your first job in the broadcast industry?
After my two careers in print journalism and the health and fitness industry, I was looking for a new challenge. I had crashed some tech conferences and was shocked by the lack of women in the industry. I had always been interested in technology, but had been discouraged from pursuing a career in the field when I was younger. Attending these conferences got me fired up and keen to help lead a change.
Then, serendipitously, I came across an advert for Sky's Get into Tech scheme, which is a free course that help women to transition to a career in tech. I applied and was fortunate enough to be accepted.
The course was a lot of fun, though very intense, and afterwards, I applied to be a software developer at Sky and got the job. I have been there for two years now, working on various projects, including most recently launching NBC Universal's new TV streaming service Peacock to the US market.
Do you have any tips for those thinking that this sector is a great place for a career?
Give it a try and find out if it's for you. At Sky we offer summer internships for students in their second year of university, as well as insight days for various different careers within Sky, from legal to finance, software development to journalism. We also offer work experience. And we recently launched a great new programme called Get into TV Ops, which is aimed at getting more women into operations careers. It gives participants a chance to try out various roles within Sky studios to find out how the TV we know and love gets onto our screens and to see which part of the process suits you best.
And for those of you who already have established careers, there is always room to make a sideways step into this industry. Sky values transferable skills. For example, one of my bosses at Sky transferred from a career in HR to be a Scrum Master for a tech team. Or if you want to write code, like me, check out the Get into Tech scheme.
What are your goals for being a mentee on the 2020 Rise mentoring programme?
Since starting my new career at Sky it has opened my eyes to all the exciting opportunities out there. I am very much enjoying software engineering and was recently promoted to mid-level developer, but I am also ambitious and keen to see what other roles there are that I might enjoy and what the next step on my career ladder is.
I am looking forward to learning from someone who has been very successful in their field and hopefully I have something to offer them in return.
What would be your message to your younger self, knowing what you do so far?
Don't let anyone stand in your way. You can do anything you set your mind to, so don't let others talk you out of things. There are so many different roles out there, and these days there's not necessarily such a thing as a career for life, so don't worry if you don't find your dream job straight away, or things don't work out as you thought they would. Everything happens for a reason and even setbacks can serve as learning opportunities. Life is short, so make the most of it!