05 May 2020
Rise Mentee 2020: Lauren Smithers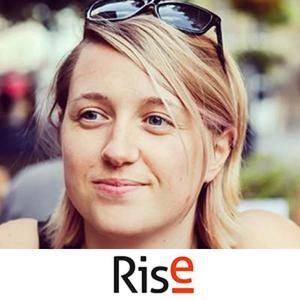 Lauren is the Head of Post Production UK at Argonon, where she joined as general Office Runner in 2014.
How did you get your first job in the broadcast industry?
I was very lucky that a series of event just fell into place and I found myself working in the industry. I'd had many jobs that had me pulling pints at Twickenham one weekend to giving out Ice Skates at the Tower of London the next. It was okay but didn't make me happy. Someone I knew worked as the Facilities Manager and needed an office runner. I did all the classic jobs; making teas and coffees, general office maintenance even painting the walls but after about 7 months I got itchy feet and wanted to do something more substantial, I got chatting to the Head of Post and she wanted to know what I was interested in. I had no clue at the time and was just wanted to see how the "magic of TV" happened. I was open to whatever opportunities were put in front of me and TV was so new to me, I didn't know where to start. I had studied Theatre at University and so when someone asked me if I knew what a codec was, I was baffled. But I think that's also what worked in my favour. I was mouldable to what was needed from me from the expanding department. She took a chance on me and her intuition about me and my hard work paid off and here I am today running the department.
Do you have any tips for those thinking that this sector is great place for a career?
I'd agree, this sector is a great place for a career, everyone will always need content to watch, and that means there will always need to be people to make it. My advice would be don't be too closed minded about what you want to end up doing. You might go into it completely set on being "this" but actually when you get to the nitty gritty of day in day out life feel that you would be better suited at "that". I think with how the world is evolving too, roles that we have now might not exist in a few years so always good to be adaptable and always learning new skills. You'll ultimately need to do something that you enjoy. Life is too short to do something you don't enjoy.
What are your goals for being a mentee on the 2020 Rise mentoring programme?
My goals for the 2020 Rise Mentoring Programme is to connect with more like minded people in the industry and build those relationships up. It can all to easily feel like a competition between companies and post houses, but our end goals are all the same. To make the best content for people to see. We should be celebrating each other's successes and helping each other with problems where we can.
What would be your message to your younger self knowing what you do so far?
I'd tell my younger self that everything happens for a reason. Stand by your decisions and push yourself as it all pays off as cliché as it sounds. You have to lose yourself for a while to really show you what truly matters, so get yourself back on track and that track will have you soaring upwards and your family are more proud of you than you know.