05 May 2020
Rise Mentee 2020: Laurissa Young Shea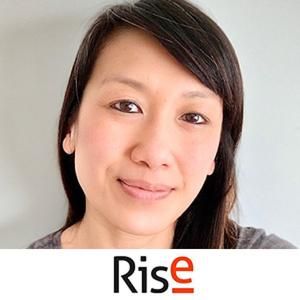 Laurissa is a highly ambitious and professional Project Manager and Business Analyst gained with international market leaders in the broadcasting and gaming sector and is currently has a role with the Discovery Channel as a Business Anaylst.
How did you get your first job in the broadcast industry?
After graduating from University, like any graduate I applied for all the jobs that were completely out of my experience and league and fell on my feet with my first job in London as a Video Editor. The role offered some good opportunities learning about editing and basic broadcast. It opened up my understanding of different roles/ paths in broadcast which I had not even learnt about during University.
Do you have any tips for those thinking that this sector is great place for a career?
The broadcast industry is actually quite vast. There are so many varying positions all entwinned in the broadcast industry, such as Technology and Engineering, Marketing, Social Media, and On Demand which offer potential opportunities in this sector.
Some of the tips that I have been encouraged to keep utilising and still use in the roles I have undertaken (even now!) include:
- Be Inquisitive. Ask questions, listen and understand not just the role you work in, and the workflows, but the people also - on a personal and professional level.
- Be Sociable and Kind. You never know who you will meet, and what type of team you work with, or how you will encounter them again, and how they will shape your career.
The team I worked with in my first broadcasting role, more than 20 years on, I am still in touch with and prior to this new world we are living in, would meet up for drinks and a good catch up!
- Be Brave. I know the term used a lot but being brave pushes you out of your comfort zone and challenges the boundaries you inadvertently put up for yourself.
For example, you can apply for roles within broadcast, you may already have that transferable skillset and the right company will give you the chance you need.
- Listen to your gut instinct. You actually know more than you think
- Be Persistent. Do not give up! It may take time, but it will be worth it when you get there.
What are your goals for being a mentee on the 2020 Rise mentoring programme?
One of my goals for 2020 was to be a Mentee on the Rise Mentoring Programme.
I feel so lucky to have been offered a place to participate. The reason why I applied was to extend my journey for personal and professional growth having had time across last year to re-assess and took opportunities to learn and met like-minded people through attending events with Rise, as well as other broadcast and non-broadcast events in and around London.
My aim is to learn, and I hope:
- To be able to learn from my Mentor.
Not necessarily give me all the answers so I can learn, rather than mimic.
Someone to geek out with, in terms of Broadcast, Technology and the Future incorporating areas such as AI, 'the Cloud', and On Demand options.
Someone who are willing to share how they have managed to achieve their personal and professional successes.
- To use my skills to shape lives of others.
For example: Rise's scheme, such as Rise Up - to give young girls and boys from an early age to have access to broadcast technology. That anyone can do this or be part of any technology if they want to. It personally struck a chord with me having a young daughter and a teenage son.
- To continue meeting more new people.
Growing a shared network of people with traits of determination and self-belief, who are interested in learning more, and also still looking for that little bit of extra… something!
What would be your message to your younger self knowing what you do so far?
I would say to my younger self:
'You don't realise this yet, but you're doing great!
Keep asking and learning. Stay strong. Keep listening to yourself.
Keep those special people with you, they will always support you.
Learn from those who have presented you challenges, and from those who will challenge you in the future.
Don't be so surprised that you will get where you want to be, and make sure you enjoy those moments, as you deserve it, and there will be lots along the way.'
I might even give myself a little hug!