05 May 2020
Rise Mentee 2020: Nicola Parr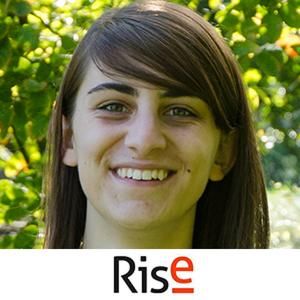 Nicola is a Graduate Design Engineer at Arqiva, responsible for delivering technical solutions to implement and commission television systems supporting all UK Terrestrial Multiplex operators. Currently working as part of the 700MHz Clearance Programme.
How did you get your first job in the broadcast industry?
It was purely by chance. I was studying a degree in Acoustic Engineering at Solent University, and I was lucky enough to have some lectures and work experience with the Broadcast Engineering students. This is where I discovered my interest in Broadcast Technology. I continued to develop my knowledge, but I knew I needed to improve my technical knowledge. So, I worked with a mentor from Arqiva during my third year, who expanded my theoretical knowledge and introduced me to the various areas in Broadcast I could work in. I followed on with this as an intern at Arqiva during the summer, working on Antenna systems. I then started my role as a Graduate Design Engineer in September 2018 and I have been in this role ever since.
Do you have any tips for those thinking that this sector is great place for a career?
The best tip I've ever got is to just go for it! You have nothing to lose, and everything to gain. Take every opportunity you are given as a learning experience. It's never too late to learn. If you'd like to work in a sector that is constantly changing and posing new challenges, then Broadcasting is the perfect place to work. I have found lots of opportunities to develop during my time and I love to know my work reaches out to almost everyone in the country. I hope I show that you don't need to know everything before you start. I am still learning today, with a great team around me, and I will always keep doing it as long as I am working as a Broadcast Engineer.
What are your goals for being a mentee on the 2020 Rise mentoring programme?
As a mentee, all I want to do is learn. I am still very new to my career, so I'd like to understand what else is out there in the broadcast sector and improve my technical and professional skills. I want to identify my strengths and build on this with my mentor, developing my contacts along the way. I'm especially looking forward to being involved in the workshops provided by Rise and meeting my fellow mentees, as I will make a lot of networks and connections and expand my horizons to help me in my professional journey. I'm sure this mentoring opportunity will open my eyes to the variety of roles within this industry sector and my mentor will be an integral part of my development within the broadcast industry.
What would be your message to your younger self knowing what you do so far?
You'll be working for an industry and doing a job you enjoy. You will always find new challenges to solve, find great opportunities to learn, and develop yourself. But right now, work on your soldering skills, you'll need them in the future!