05 May 2020
Rise Mentee 2020: Sneha Gopee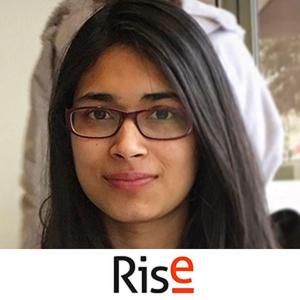 Sneha is an experienced Network Design Engineer with a record of working in the telecommunications and broadcasting industry and her current role is as a Lead Network Design Engineer at BT Media and Broadcast.
How did you get your first job in the broadcast industry?
In my third year of university, I decided to get some work experience over the summer. Given that I was studying a degree in Communication Engineering, I wanted to get some work experience in Networks. Whilst looking for jobs, I came across the summer internship that Arqiva was offering and it fitted every criteria that I was looking for in my work experience and over 7 weeks, I worked as a Connectivity and Network Engineering intern. This was my first introduction to the broadcast industry and whilst working at Arqiva I got the opportunity to work with people across the industry and particularly with engineers from BT and that's when I got to know about the graduate opportunities that BT was offering and eventually I landed a permanent position in BT as a Network Design Engineer in Media and Broadcast.
Do you have any tips for those thinking that this sector is great place for a career?
The opportunities in the broadcast industries are endless. From Media Edge to Networks, there's a choice for everyone. For anyone new who wants to join this sector, I suggest try and find out what interest you most and if possible, try to experience different teams/environment, such as outside broadcasting, broadcast engineering, media edge designer, before settling down into one permanent job. Apprenticeships are usually a great way to get to experience different teams in the broadcast sector.
What are your goals for being a mentee on the 2020 Rise mentoring programme?
Increase my confidence in the field, meet more like-minded people and becoming a better engineer.
What would be your message to your younger self knowing what you do so far?
It's okay not to know what you want to be doing later in life. Just go with the flow and give everything that you do your best. Trust that things will work out in life if you keep pursuing what matters to you the most.