05 May 2020
Rise Mentee 2020: Sophia Hazari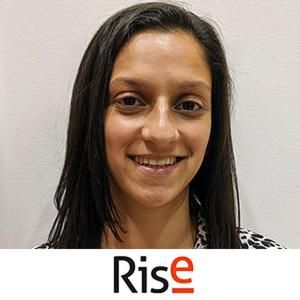 Sophia is a Transmission Lead at Discovery Inc. and is in her third role since 2017. Starting as a Transmission Operator for fully automated channels, she quickly moved onto the excitement of live sports television for Eurosport and Nordic entertainment channels. A recent promotion means she is now responsible for maintaining the scheduled playout of these channels in the London Technology Hub, as well as the execution of live sports events.
How did you get your first job in the broadcast industry?
A combination of things, I'd say. The biggest influence was definitely the two societies I was part of at university. I learnt loads about technology while taking part in live events at TEC PA & Lighting, and got so much out of the community that I stayed for five years! In the student television society, NSTV, I tried everything they had to offer and enjoyed the technical side of live broadcasts the most. We'd stream sports and student events online and each time was a learning opportunity. I also got experience in various parts of the industry and worked as a runner, on outside broadcasts, and volunteered at the Edinburgh TV Festival. It was during work experience in the broadcast operations department at Sky that I learnt about Transmission. Watching TV for a living and troubleshooting when things went wrong sounded great! I found my first job at Discovery and have since worked on a portfolio of lifestyle and entertainment channels and aired live Tennis, Cycling, Superbikes and more on various Eurosport channels.
Do you have any tips for those thinking that this sector is a great place for a career?
It is! The broadcast industry is varied and progressive but smaller than you think, so relationships are important. Build them everywhere you go. Chances are that years down the road you'll work with someone you did at the start of your career, so make sure they'll remember you for being proactive, hard working and confident. I'd also recommend getting experience in several areas of the industry so you can get a feel for what you like and where you might be suited. You've got to create these opportunities for yourself though so think about making use of Facebook groups, college/university societies, work experience, access schemes, and volunteering. It all counts. There are so many roles out there, especially on the technical side, that are less well known but worthwhile.
What are your goals for being a mentee on the 2020 Rise mentoring programme?
I was recently promoted from a live operator to Transmission Lead and this role comes with extra responsibility while still maintaining my skills as a live operator. I've settled in pretty well but know I would benefit from talking to a senior professional about my experiences so I can support my team and managers as well as getting the most from the position and thinking ahead. I'm really looking forward to connecting with my mentor, Allison Coucher, and also with the mentees, a diverse group of women across the industry who are invested in their career and growth.
What would be your message to your younger self knowing what you do so far?
It's never too late to change your life path. I nearly ended up in another career and industry entirely because I felt I had to go down a route that was expected of me. I'm glad I switched careers then and know I can do it again if I need to.