15 Apr 2020
Speaker Q&A: Emma Butt, Freelance Dubbing Mixer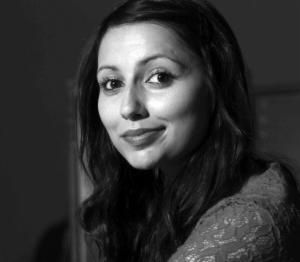 Emma Butt is a Re-Recording Mixer, Sound Editor and ADR recordist currently working as a Dubbing Mixer. She has over 9 years experience in post production sound on a variety of projects from mixing on short form commercials, magazine shows, short films, documentaries and animations to ADR recording for dramas and feature films and sound editing experience on a wide variety of projects.
What career did you envision when you were growing up?
I thought I'd end up in music like most other soundies I know. I always wanted to do live sound for bands either at a venue or travel around the world with a band but after work experience in a venue for a year, I learned very quickly that it wasn't a career path for me. The hours are really tough, tougher than post, with little to no social life and I experienced so much sexism that I didn't want to pursue it further.
What was your path to working in sound in the creative industries?
I went to Uni back in Ireland to study sound specifically, with a view of going into live sound. When I realised that wasn't something I wanted to do, I started to look at other areas of our sound course that caught my attention and that was post production. 3 months before my uni course ended, and the panic set in of needing to find a job, I started applying to all the post houses in Dublin for a runner position. Screen Scene Post Production was where I ended up working for 9 years although at first they didn't want to hire me as they thought I was too timid to be a runner!
I worked as a runner for 5 months and spent every lunch break, before my shifts and after my shifts, sitting in with the engineers learning their workflows and asking for small projects, like tidying up a VO, to do after work. The extra hours paid off, and I was promoted to receptionist / short form audio post producer for 6 months to get to know the clients. Once that 6 months was done, I started working as an audio assistant in short form. I hated short form, it wasn't for me, so I pushed management to move me into long form which they did after about a year. My first ever mixing job was actually on a show for deaf people and I loved it. It was a great show called "Hands On" and it thought me so much. The producer was incredibly tough and my dialogue and music edits had to be spot on. It was also a very quick turn around job which really helped me build up speed. I progressed over the 9 years there and eventually moved into doing ADR and looking after factual, entertainment and animation projects from start to finish, covering all post sound. I had always wanted to mix drama though and I couldn't do that there, there were too many engineers ahead of me, so I decided to move to London 4 years ago. I had to take a few steps back career wise coming here as very few people knew who I was and I'm still not where I want to be but being freelance and wanting to mix drama is a tougher and slower path, so I know I have to be patient.
What's the difference between working on a TV series and working on a movie?
Time scales is definitely the big difference. The last film I worked on as a dialogue assistant had been in post production for, I think, 2 years. Generally for a drama series you are looking at a few weeks dialogue and sound effects editing and a few days pre mix and final mix. Feature films you're looking at a few months dialogue and sound editing and a few weeks pre mix and final mix. Films also go through test screenings which add onto the time, and they generally have a more flexible release date until the marketing kicks in.
The teams are also much larger on films than they tend to be on a TV series. You can have 2 Re-Recording mixers on a film, one for Dialogue and Music and one for SFX compared to 1 on a TV series. Workflow wise, personally, I don't think there's much difference. Whether you're working on a factual show, drama or a feature film, at the end of the day you are using the exact same skill sets
As the ADR Recordist on the upcoming TV miniseries QUIZ on ITV, talk us through a typical day on a series like this?
No day is typical! With a series like Quiz we had to record a combination of ADR via Source Connect, in person in London and crowd ADR for the series.
By the time a TV series finishes shooting, especially if it has an international cast, most actors are either off onto their next project or heading back home. When the show hits final audio post and ADR needs to be done, actors sometimes can no longer be in the same city they shoot the show.
With Quiz, although most of the actors are British, they were incredibly busy so some had to do their ADR via Source Connect. This means that on some days we would have actors in the studio with us in London for a few hours to do their lines, with usually the producer, ADR supervisor and myself present, and straight after we could have a Source Connect session with a studio in maybe LA with another actor from the show, and record their lines "down the line". With Source Connect, whichever studio has the actor present, they control the session. They run my Pro Tools session and picture in time with theirs, so we can see if the ADR is matching in sync, has the right pitch and tone and has enough movement. Ideally you'd always like to have everyone in the same room but this works just as well when that isn't possible.
There's also "crowd" or "loop group" ADR to record for each episode. Any scenes where there are large groups of people in the background that you can clearly see are talking, the sound is usually covered by crowd artists in a studio in post production. It's one of the more fun and unusual days of ADR. Say for instance you see 2 people walk across the screen in shot, usually those 2 people would have been mute on the day. Crowd artists will come in, maybe watch the scene once and come up with a conversation on the spot to give those two people a bit of presence and add another layer of texture to the sound of a show.
What's your favourite project that you worked on and why?
I think most people expect me to say Game of Thrones and while it was fun and it helped me a lot career wise, it's actually a toss up between working on the ADR for Lenny Abrahamsons "What Richard Did" and a series I did recently for Make Waves Production called "Victorians in Colour".
With Lenny's project, he's a director I had admired ever since I watched "Adam and Paul" and "Garage" so getting the chance to work with him was a dream come true. We also had the chance to have a bit of fun with the ADR as there's a scene where a fight breaks out after a party in some ones front garden. The studio I worked for in Dublin at the time, our ADR room was near our carpark, so we decided to try to record the crowd for that scene outside by running the cables from the studio. We got stopped fairly quickly after the neighbours complained about all the shouting, and they thought an actual fight was happening, but I think some of the recordings ended up in the film.
With "Victorians in Colour", it's an archive heavy show with video footage from the Victorian era colourised. I looked after all the audio post production for the project and generally those are the jobs that interest me more. The footage is completely mute so it gave me an opportunity to have some fun re creating the sounds of Britain back then. The footage itself is beautiful once colourised but adding the sound just brings the images more to life and makes them feel more relatable as a viewer. There is something incredibly satisfying about having a final mix playback with a client, who for weeks has watched this footage with no sound, and suddenly with this one extra layer it brings these shoots to life even more, and they get to view them in a new way.