22 Apr 2020
Sponsor Q&A: Chris Bradbury, Altitude Aerial Photography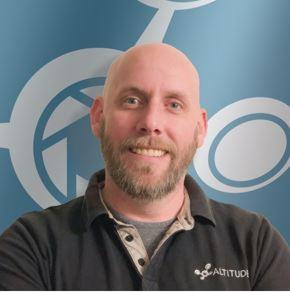 Chris Bradbury is an experienced remote vehicle operator and owner of Altitude Aerial Photography Ltd. He has operated drone cameras on various TV programs, as well as created unique remotely controlled vehicles for multiple clients, including Fast and Furious Live.
How did you get started working with drones?
I started with remote control or 'RC' vehicles as a kid, when my parents bought me an RC car, which snowballed into RC boats then eventually aircraft. As I've always had a passion for photography and filming, it didn't take me long to start attaching small cameras to the aircraft, which then led to a desire to improve the image quality with stabilising mechanisms.
So how do you take using a drone to another level?
I suspect if you mention using a drone to many that their mind will automatically picture the DJI Mavic, Phantom or Inspire and the cameras they offer, as these are the most common drones being used on the market today. This isn't a bad thing, but it does kind of limit you to the same 'style' of shots, as the parameters of these aircraft are all near enough the same.
So to reach another level, we need to look at alternative uses and approaches.
Does this mean drone shots are becoming 'stereotypical'?
I think there is a certainly a risk of that, but I feel this probably depends more on the person directing the shots, tied to the ability of those flying and what they are capable of. We've been fortunate to work with some great creatives and we will always offer suggestions of things we can do, so that anyone we work with has the best options available to them.
What other types of shot could a drone get?
As mentioned, it kind of depends on the drone, as the more common DJI drones, as great as they are, are limited to carrying the camera they were built for and have pre-set limits on their abilities, such as maximum speed and agility.
There are however many different types of drone that can be used, such as helicopters, aeroplanes and 'FPV' or 'first person view' racing drones, which with the improvement of action cameras like the GoPros, can be used to create high speed and aerobatic imagery.
The unique ability of an FPV drone is its speed and agility, because the drone is more compact and powerful for its size and flown in a true manual mode, without advanced self-stabilising flight modes, so it can be flipped inverted and more.
The pilot of the FPV drone flies the aircraft using a live video downlink from the front of the drone, hence the name 'first person view', which means the pilot gets a sense of being in the aircraft. This means we can also perform tasks such as flying through and amongst obstacles with far greater accuracy.
For example, we were lucky enough to work with Alton Towers to create some news content for the 25th anniversary of their Nemesis roller coaster, where they wanted to film the ride as it had never been seen before. We used a 250mm racing quad and a GoPro 7 to chase the ride around the track creating a one shot, going under and over the track, as well as amongst the framework. The speed and agility of the racing drone truly captured the feel of the ride, including the rolls and loop, something that would not have been possible with a traditional drone.
Is drone use all about the camera?
The camera would certainly be the primary use of a drone, but there is a lot more that can be done, even with the DJI type of aircraft. I enjoy watching 8 Out of 10 Cats Does Countdown, where I've seen a DJI Inspire deliver beer to a contestant among other things.
Any drone can lift a certain amount of weight, provided its maximum mass and centre of gravity limits are not exceeded, otherwise it may become dangerously unstable. It's also important not to exceed a drone's limits, as these will need to be specified in the user's Operations Manual with the UK Civil Aviation Authority, so exceeding them could have significant legal and insurance implications as a result.
Over the years I've created scale replica flying models, life size RC torpedoes and heat seeking missiles, as well as flown various models in front of the camera.
One of my favourite non camera-based uses of a drone is flying floodlights and spotlights. There is something about a bright floodlight suspended from a drone over a wood that has a real 'Close Encounters of the Third Kind' feel to it. The way the light shines through the trees and the shadows created, it's beautiful.
On a smaller scale I recently worked on a BT project, where I built a flying light bulb, which was then flown as part of a live concert.
Essentially, I feel a drone is a tool that has more than one use, not only as different ways of carrying a camera, but different ways of being involved in front of the camera too, basically making the imagery as well as capturing it.
Can anyone fly a drone?
Absolutely, I think most people should be able to learn, but just bear in mind there is safety and laws to adhere to, especially laws around the use of drones for commercial operation.
Without a permit to operate commercially there are numerous restrictions on what you can and can't do with a drone, so my best advice to anyone looking to start using drones, is that they first visit www.dronesafe.uk and familiarise themselves with the law, then visit their local model aero club as somewhere to fly safely and legally.
What is in the future for drones?
Sadly, I personally think we are still some way off getting coffee delivered to the set by drone, but there are certainly some exciting things around the corner.
As a company we've already done displays with drones, including flying more than one in formation, but we are currently working on bringing Swarm displays to the UK.
Swarms will create a hole other visual experience, creating 3-dimensional light displays and giving more ways of adding creativity to media, such as adverts and music videos.
I think the challenge is to think beyond the traditional use of drones and more in to the 3-dimensional space above and around a set.