22 Jul 2022
Behind the scenes: World Athletics Championships 2022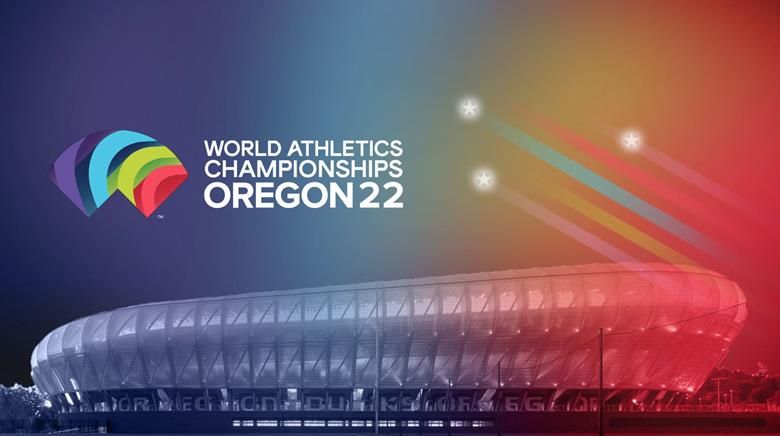 Host broadcaster World Athletics Productions (a joint venture between ITN and the sport's governing body) explains the scale and complexity of its production setup
Five years ago, athletics governing body World Athletics began a joint venture with ITN for the host broadcasting and media production of its events. The joint venture – World Athletics Productions – looks after the traditional and digital production and 24/7 storytelling and ensures a consistent quality of broadcasts and production standards.
The company delivers host broadcasting of World Athletics Series including biennial competition, the World Athletics Championships, and World Athletics Indoor Tour events, as well as all non-live production requirements including magazine and feature programming, digital and branded content.
Broadcast Sport asked ITN Sport for some insight into its involvement, as part of host broadcaster World Athletics Productions, in the World Athletics Championships, currently taking place in Oregon. Here's what they said….
As host broadcaster, the team has to cover numerous events happening simultaneously, whether it's the Women's 100 metres or the Men's triple jump, creating a seamless programme, choosing which ones to take live and which to instantly turn around for replay.
But they also have to offer each of those disciplines and events separately, as every rights holder has a different focus or priority. Plus they are providing the big screen broadcasts for fans inside the stadium. It is managed by the 10 on-site control rooms and their production teams, feeding a tremendous volume of pictures around the world.
But it's not only the logistics that are a focus as World Athletics Productions is doing so much more than providing a feed. The goal has been get much closer to the athletes. Whether in warm ups, arriving at the stadium, in dressing rooms, lining up to compete, in the moments after, we've seen their faces, their emotions, their journeys.
They are incredible people at the top of their game, international stars, and through our cameras we've been up close and personal, a level of intimacy that we don't often see in traditional coverage – a bid to make viewers feel invested in the characters in a far more compelling way.
The team set out to tell their stories, not merely cover the events, and determined to ensure the broadcast experience really mirrors what fans are getting on the ground.
Driving Gender Parity
Even just five years ago, sport was very male-dominated in terms of participation, and that was reflected behind-the scenes with women either unrepresented or taking on admin roles.
With the marked improvement in the profile of female sports in recent years, partly down to the success of England's netball and football teams, more women are keen to play a part off-screen too. ITN has made major inroads by focusing on career progression opportunities and offering family-friendly policies, helping account for the fact that more than 70% of the World Athletics Productions team are female.
ITN director of sport Alastair Waddington and Mark Fulton, head of sport are among the only senior males in the whole World Athletics Productions business.
Having more women in senior producing and directing roles has had a trickledown effect, and in this latest large-scale event, the World Athletics Championships, there are not only more women, but more women in a wider variety of roles, whether production assistants, vision mixers or EDS operators.
This in turn is encouraging more women to want to work with ITN Sport where they are also supported by a range of flexible working and industry-leading policies, from shared parental leave to menopause, infertility and pregnancy loss support.
While there is more to do across the entire industry, particularly in terms of crew, having supportive leadership, inclusive policies and clear career paths for women, whether freelance or staff, helps ensure a long-term career in global sports production is increasingly viewed as a viable option.
A marathon achievement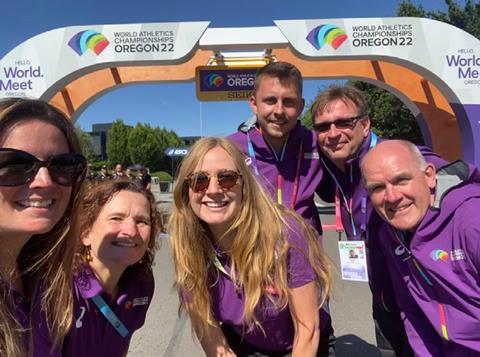 The women's marathon, coming a day after the men's event and on the heels of the two 20k Race Walks on day one, marked the fourth outside races event of the Championships and the second straight very early rise for the World Athletics Productions (WAP) Marathon Race Walking team (pictured above).
Producer Anneka Radley, said: "Our biggest challenge was covering the majority of the marathon course using RF cameras, but thanks to the RF teams, AVS (Aerial Video Systems) and BSI, alongside NEP and World Athletic Productions' tech teams the coverage was fantastic. A lot of testing and planning went into making it work and it paid off.
"We've worked really hard on the graphics to give the viewers the most informative and interesting viewing experience," adds director Clair Goodwin. "For instance, we can now analyse the kilometre splits and pace times throughout the race, and we've also tried to make the Race Walks more accessible to the casual viewer by using new penalty explainer graphics.
"As well as this we've enhanced our coverage with all the extensive facilities available to us including an Agito, a U-crane, two drones and a helicopter. This has given us the opportunity to give us new and improved angles of the Marathon and Race Walks."