13 Oct 2020
COMMENT: Infosys On The Virtual Future Of Tennis At Roland-Garros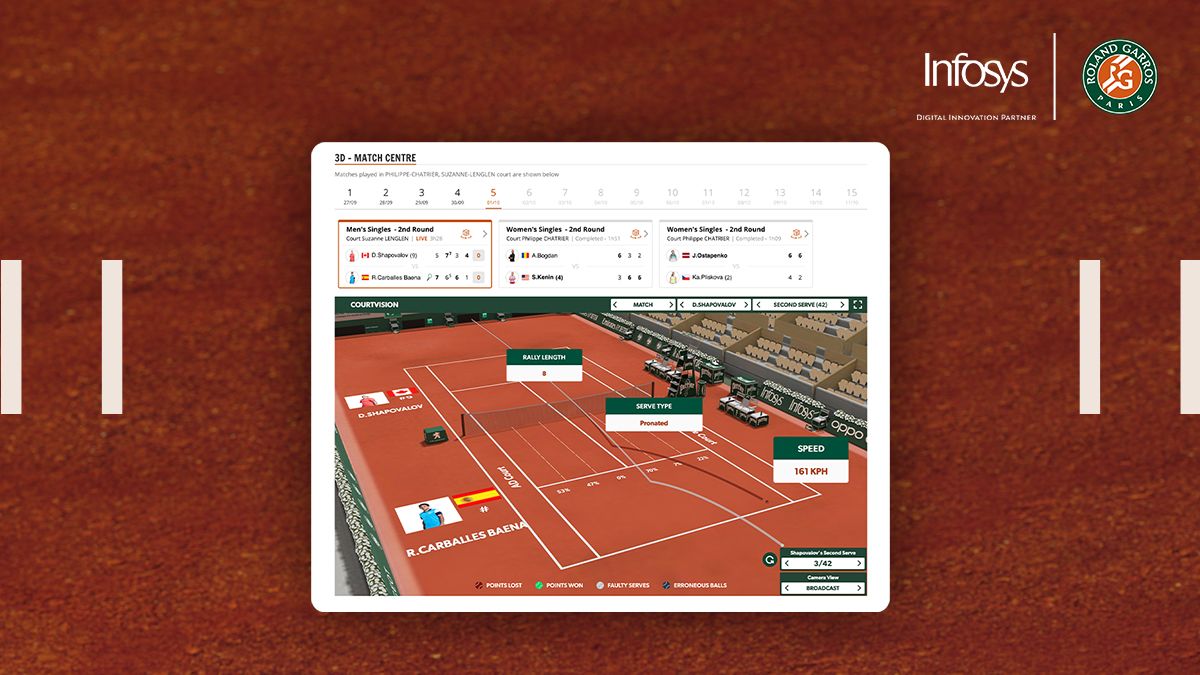 Navin Rammohan, vice president, Infosys on the new graphics-based real-time insights the company brought to Roland-Garros this year
Empowerment is not just about bringing you closer to a sport, but making you feel like you are one with the game. When this happens, an experience goes from being something that you use to something that you can't do without anymore.
One such example is Infosys MatchBeats – a streaming point-by-point flow of statistics. This equaliser-like interface is part scores, part stats, and full insight.
MatchBeats maps the rhythm of the game with context, for every point, or beat as it is called in the interface.
In addition to tracking the serve speed and rally length of every point, a fan can apply filters to see how the match momentum shifted at crucial times such as break points.
A mere glance at the height of the MatchBeats bars around the break points will reveal who dug deeper to hold or fold. The taller the bar, the longer the rally, the harder the fight.
Another example is Infosys CourtVision, a analytical engine that serves real-time trend-mapping by overlaying statistics on the court.
At last year's Roland-Garros tournament, CourtVision's statistical overlays were largely 2D. But this year, with more fans looking for a more interactive remote experience, CourtVision has transformed into a 360° experience, transporting the fan on the clay to be surrounded by stats and ball trajectories from different angles.
Any shot can be seen from the server's and the returner's point of view, with precise tracking of ball bounce height, the speed, the spin. One can spot the patterns of play to see where the errors landed, closer to the net or at the edge of the court.
We also introduced two AI-powered innovations. Machine learning algorithms categorise and serve clips by rally length, ground stroke, backhand, and every other area imaginable. For sports reporters, this fast-tracking of facts can provide auto-generated match summaries. And on the storytelling level, it delivers video analysis of key match moments.
For full story and imagery visit - https://broadcast-sport.com/2020/10/12/comment-infosys-on-the-virtual-future-of-tennis-at-roland-garros/