16 Oct 2020
Creating a Covid-safe environment for Strictly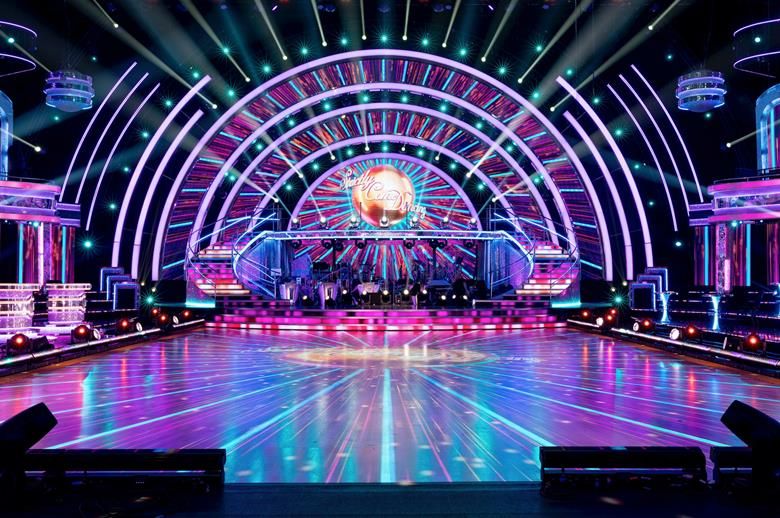 Behind-the-scenes with BBC Studioworks as it makes essential changes to safely accommodate Strictly Come Dancing during the pandemic
BBC Studioworks is providing studio and post-production services to BBC Studios' Strictly Come Dancing, and has revealed the changes it's made for the production, to ensure a Covid-safe environment.
For enhanced ventilation, it has hired additional air handling units. These fill the stage with fresh air, at the rate of 60,000m3 per hour. It has also upgraded the fresh air system within the gallery suite to ensure sufficient air changes.
BBC Studioworks has restricted the number of people allowed in the gallery area at any one time and has installed bespoke Perspex screens across all gallery suites. Furthermore, a number of gallery-based operators and production staff have been relocated to cabins outside.
On the studio floor, some of the operated cameras have been replaced by remote heads and all other cameras are spaced more than two metres apart.
Perspex vocal booths have been created for the band's singers, each with a bespoke air extraction system. Each booth has also been rigged with a monitor with a live feed of the show's musical director, Dave Arch.
Microphones will not be shared across the series run. Each microphone has been named for a specific user and is sanitised after each use. Talent are now responsible for micing themselves, with BBC Studioworks' crew, in PPE, guiding them throughout the process.
Talkbacks, walky-talkies and headsets are also assigned to individuals and sanitised after every use, with headsets being bagged and named.
As well as Covid-secure cleaning protocols, electrostatic misting is sprayed overnight after each day on set, including communal areas and toilets.
When it comes to post-production, editors and producers are now working remotely at home, with access to Avids and the Logging system via a secure VPN. Viewings happen remotely via live video feed or viewing links for repeat viewings, as are voice overs.
Meryl McLaren, commercial manager, BBC Studioworks, said: "Making the Strictly ballroom a Covid-secure environment has been a real collaborative effort between BBC Studioworks and BBC Studios, with months of planning and preparation."
The first episode of Strictly Come Dancing airs on Saturday on BBC One at 7:50pm.