13 Jul 2023
Molinare expands to become Molinare Creative Group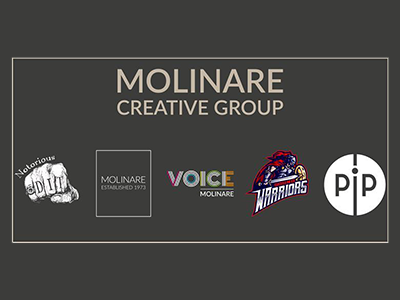 It has acquired Notorious DIT, brought in Pip Studios, and launched two new brands
Molinare has formally become Molinare Creative Group, after the acquisition of Notorious DIT.
Notorious DIT, a digital dailies and DIT company, will continue to operate under its own brand with founder Michael Pentney as managing director. Its credits include The Gentlemen, Peaky Blinders and Heartstopper.
Meanwhile, Molinare has launched two brands, Sound Warriors and Voice Molinare. Sound Warriors provides foley, sound editorial, field records and re-recording mixing services for games as well as film and TV clients, outside of those undertaking full post-production at the facility. It is led by chief creative officer and sound supervisor Glen Gathard and its team has credits such as Netflix's The House and feature film Fantastic Beasts: Secrets Of Dumbledore. It aims to forgo the use of music libraries, recently carrying out field records in Finland for an animated feature film, as well as car records for a AAA game currently in development.
Voice Molinare will provide ADR, voiceover, dialogue direction, head mounted capture (HMC), performance capture, crowd records and casting across the games, film, TV and advertising industries. Its HMC and performance capture services are supported by industry partner Centroid from Molinare's purpose-built studio at Fouberts Place.
Both Sound Warriors and Voice Molinare are based at Molinare's Fouberts Place HQ as well as at its nearby facility on Poland St.
Molinare TV & Film will continue as is, providing offline facilities, picture and audio finishing, QC, mastering and delivery for film and TV.
Finally, affiliated post-production facility Pip Studios is being officially brought into the group. It provides localisation, mixing, and services for film, TV, and gaming, and was founded in 2020 by Ally Curran, Mark Sheffield and Molinare CEO Nigel Bennett - who is currently chairman of Pip Studios. Sheffield will remain as its managing director and Curran as its operations director.
Bennett said of the group's formation: , "The introduction of Molinare Creative Group reflects years of ongoing work to develop, grow, and restructure the well-regarded Molinare brand. The new structure allows us to be clearer with what services we provide, the creatives who will be working on them, and where they are rolled out.
"Sound Warriors and Voice are essential for developing a dedicated space for our growing external audio and performance capture output, whilst the additions of Pip and Notorious puts Molinare in the unique position to provide a truly end to end solution to our post production clients. I am very proud to launch the new group and take the next step in Molinare's ongoing journey."
Pentney said of Notorious DIT's acquisition: "Since starting Notorious, we've had the privilege to work on some of the biggest dramas, films and factuals in the World. As we continue to grow, partnering with Molinare will enable us to realise our ambition. It was integral for any partner of ours to have the same ethos as us. Fearlessly independent and willing to take risks to provide the most efficient solution, with beautiful results. From strengthening our offering to streamlining the Dailies and Post process for clients, the future is looking bright."
Gathard, who will lead Sound Warriors, added: "Sound Warriors and Voice are the next step in our evolution. They take everything we've honed across 50 years and allow us to deliver our post services in a way that speaks to the gaming market and beyond. They provide clients with a brand catered to their specific industry needs, while allowing the Molinare brand to stay focused on what it has always been famous for: exceptional post-production for film and TV. The talent at both brands bring creativity and exceptional skill to every project and I'm excited to see both them and the new businesses continue to grow."
Sheffield, of Pip Studios, commented: "Molinare and Pip have been working closely together for some time now. Obviously, we both have the common link of Nigel, but formalising the partnership strengthens both parties. Being able to offer clients a completely streamlined post production process from set through to localisation delivered by trusted and reliable stalwarts of the industry cuts out the fuss and stress of moving data from facility to facility. Instead, clients are safe in the knowledge their production is in the safe hands from start to finish. Through joining the Molinare Group, we offer a unique proposition, which I am looking forward to working with the wider group on."