15 Nov 2022
Bloomberg partners with Papercup on localisation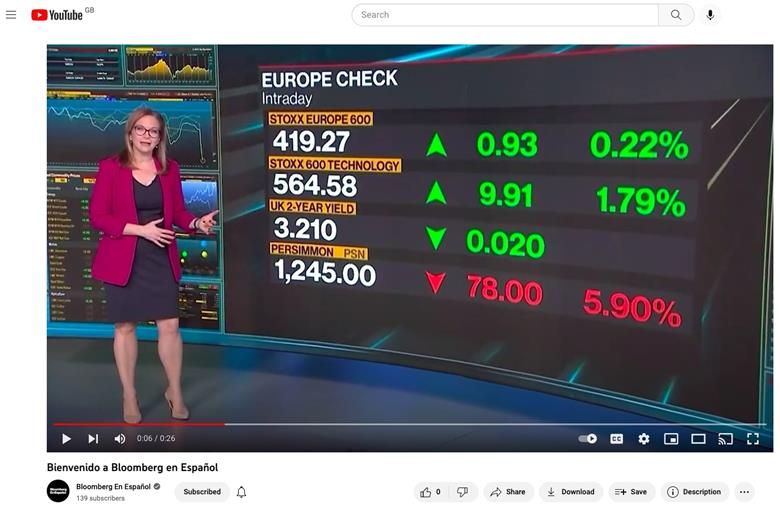 UK-based company to provide AI-powered dubbing
Bloomberg has partnered with UK-based company Papercup to localise its content for Spanish-speaking audiences in the US and Latin America.
Papercup provides AI and machine learning-based system that localizes videos into other languages using synthetic voices.
This technology will be used to dub Bloomberg's global news coverage, financial market analysis, and documentaries on YouTube, which totals hundreds of hours of content and expects to reach millions of viewers worldwide.
Travis Winkler, General Manager, Video and Audio, Bloomberg Media said: "As a global news leader, it's Bloomberg's mission to ensure that reliable, trustworthy news can reach as many people as possible. Papercup's advanced AI tools give us an exciting new way to reach global audiences, and we expect to see audiences respond enthusiastically."
Jesse Shemen, CEO of Papercup said: "At Papercup, our mission is to make the world's videos watchable in any language. There are billions of hours of video stuck in a single language - our AI dubbing tool will unlock vast volumes of this content for a global audience. I'm excited about working with Bloomberg given their unparalleled track record of producing financial news content that an entire industry depends on.
"I have no doubt that audiences across the globe want to engage with and share their content - I'm looking forward to Papercup playing a part of that journey."