11 Sep 2022
Gravity Media to open London Production Centre White City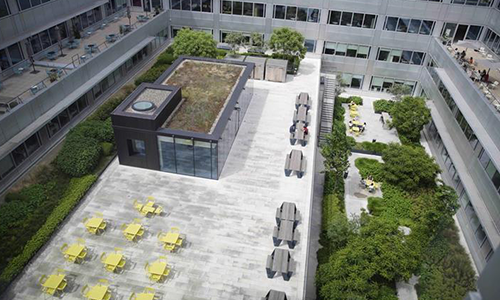 The media hub is made up of production, post-production and live studios
Gravity Media is opening its second London Production Centre. It's in White City and will launch later this year.
The London Production Centre White City is in The Westworks building and is a media hub made up of production, post-production, and live studios.
It's the latest in Gravity Media's range of Production Centres, which are currently located in Chiswick, London; Manchester; Sydney; Melbourne and San Francisco.
The London Production Centre White City is a 50,000 square foot facility supporting both on-premise and distributed remote production workflows.
It's connected to the Gravity Media UK and metro networks, as well as key telco partners, and is able to support more than 200 incoming and 40 outgoing discreet services.
The facility has eight dedicated production control rooms with dedicated audio control rooms, multiple off tube commentary booths, two studios lighting and vision control facilities, fast turnaround and craft edit, flexi desk production spaces, media management and client desking.
The Westworks building is located next to the BBC Television Centre, home to Good Morning Britain, Lorraine, This Morning, and Loose Women as well as entertainment shows such as Saturday Night Takeaway and the Jonathan Ross Show.
The facility offers an open plan workspace, floors overlooking central gardens and terraces within easy access to the centre of London. Gravity Media is aiming to have key sports federations based in their facility, with their broadcast media needs catered for in-house via the facility's media and technology solutions.
The building will collaborate directly with Gravity Media's London Production Centre in Chiswick, enabling decentralised remote production workflows.
Ed Tischler, Gravity Media managing director said: "The expansion into a brand new, state-of-the-art Production Centre is a big moment for Gravity Media. We are immensely proud of the team and the business and are excited about what the space can offer our clients. The powerful network of connected Gravity Media remote Production Centres, coupled with expertise delivering turnkey solutions will continue to offer productions a unique range of options and flexibility."
Gravity Media CEO and founder John Newton added: "With this game-changing launch, following on from our recent Gravity Media Production Centre Manchester opening in the iconic ABC Buildings, we are poised for the most exciting chapter this company has ever known. This expansion enables us to build a truly future-focused facility providing the most advanced solutions for all our clients across sports, film and TV and live event formats."