21 Oct 2020
Hybrid BFI London Film Festival achieves record attendances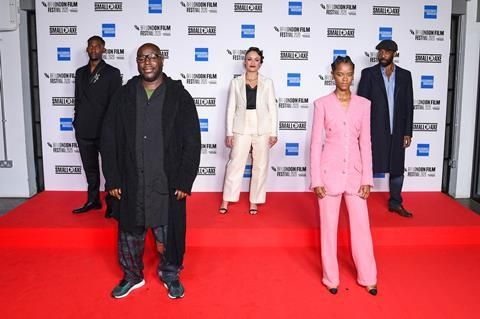 The BFI London Film Festival has announced record attendances for its 2020 edition, which combined physical and virtual screenings and events.
Total attendance was 315,000 across the UK and internationally. In 2019, the festival achieved 178,000 London admissions, and 190,000 including screenings across the UK.
Francis Lee's Ammonite, the festival's closing night film, played at 350 UK cinemas on Saturday October 17, delivering nearly 14,000 admissions. The title was the top-grossing film in the UK that day, although – as a preview – the Lionsgate title was omitted from the official UK box office chart for the October 16-18 weekend period.
The attendance total was boosted significantly by the events programme, which was free to viewers and not geo-blocked. Attendances for physical and virtual screenings, and for the new XR programme LFF Expanded, reached 141,000, including viewings by press and industry.
The events and talks programme – delivered digitally for the first time – achieved 174,000 engagements, including more than 8,000 views for Tsai Ming-liang's Screen Talk, nearly 9,000 for the Female Horror panel and 11,000 for Riz Ahmed's Screen Talk.
For the 2020 edition, the festival presented 60 films, of which 54 played virtually via BFI Player. Six films played in cinemas only, with BFI Southbank joined by 12 festival partners in London and regionally, including Glasgow Film Theatre, Home Manchester and Watershed Bristol.
Eleven of the films offered virtually also played in cinemas, making 17 in total. Opening-night film Mangrove, which forms part of Steve McQueen's Small Axe anthology series, was offered free to audiences across the 13 main festival cinemas.
"While difficult to compare this hybrid model to previous years' attendances, to have reached audiences of over 315,000 is amazing, even more so when we consider that many home views are more than one person," commented festival director Tricia Tuttle.
"To say we surpassed our own expectations is an understatement," Tuttle added. "From the feedback we received from audiences and professional colleagues, we all feel LFF came at an important time for the industry, as we all rally together in the face of incredible challenges."
"Much-needed celebration"
Partner venues benefited from the ability to play UK premieres of titles at a time when the regular UK release calendar remains relatively patchy, thanks to the Covid-19 pandemic.
"BFI LFF at Watershed was a fantastic opportunity to give Bristol audiences previews of some of the most exciting new films coming up," said Watershed cinema curator Mark Cosgrove.
Cosgrove noted that his venue achieved sellout screenings with titles such as Nomadland, Ammonite, Soul, Mangrove and Another Round.
"It was a real and much-needed celebration of cinema especially at a time when the exhibition sector is going through an uncertain time."
His comments were echoed by Allison Gardner, CEO of Glasgow Film, parent of Glasgow Film Theatre and Glasgow Film Festival.
"We were delighted to be part of LFF this year and our screenings – with restrictions – ran at 99% capacity," she said. "The opportunity to be a partner venue reinforced our view that co-operation and working together is the best way forward for audiences."
"This felt like a great way to bring audiences together in a difficult time," added Jason Wood, artistic director at Home in Manchester. "I am sure I am not alone in hoping that the initiative to present titles across the country continues."
The festival welcomed 1,136 industry and 1,038 press delegates for the 2020 edition. In recognition of the virtual nature of the access, industry passes were significantly cheaper than recent editions of the festival, and delegate passes were free.
In 2019, the festival's box office revenue was £1.6m, Tuttle recently revealed to Screen. This year's festival proceeded with a different economic model, with partner venues sharing ticket revenue with rights holders, meaning that the festival's own retained ticket revenue was limited to its share at BFI Southbank and virtual screenings.
Box office revenue for the 2020 edition has not been announced – although Ammonite alone generated more than £100,000 on October 17 for Lionsgate and the nationwide cinema partners.