15 Aug 2022
Rise Up Academy Summer School introduces students to broadcast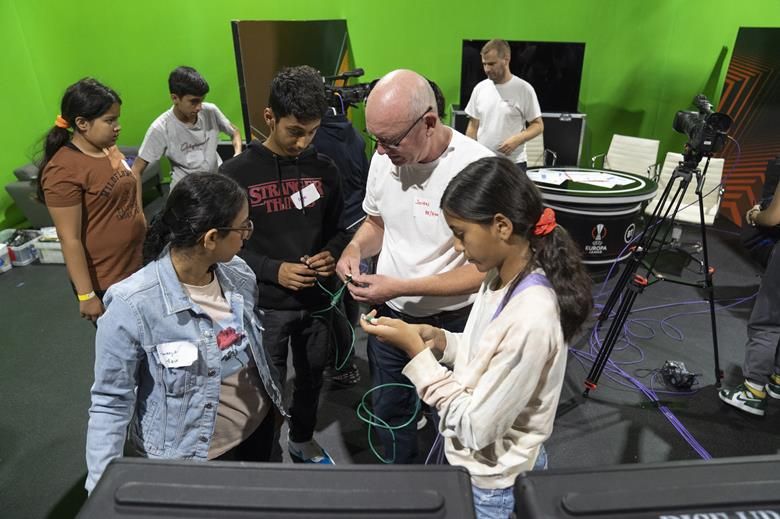 School ran from 2-5 August at Global Academy with help from across the industry.
The Rise Up Academy Summer School launched earlier this month, introducing students aged 11-18 to the broadcast industry.
Running from 2-5 August at the Global Academy in Hayes, classes included building a TV studio and creating a TV show, using an OB truck, creating graphics, hands-on editing and post-production experience, learning what virtual production is, and discovering cloud technology.
There was even a chance for students to star in front of the BT Sport Champions League and Europa League studios, with the London location and out-of-season timing making the kit available for the school.
The Global Academy was a particularly apt location for the summer school, as it is a free-to-attend purpose built college aimed at youth who want to enter the media industry. There was a particular effort made to advertise the event to groups that aren't well represented in the broadcast industry, in line with Rise's efforts to help women into broadcast as well as socio-economic and ethnic diversity.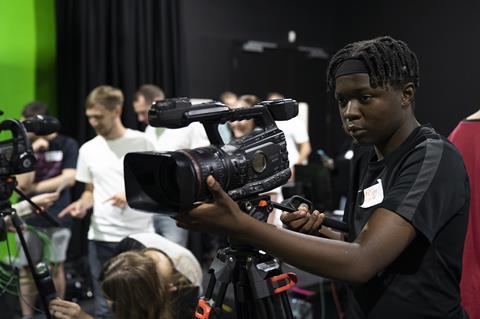 These classes were taught by volunteers, with help from sponsors including Blackmagic Design, BT Sport, Clear-Com, disguise, Harmonic, ITV, Sky, The Media Production and Technology Show (MPTS), and Warner Bros. Discovery, as well as delivery partners running the classes: AE Live, AWS, Cloudbass Outside Broadcast, Final Pixel Academy, Finish Line, Grass Valley, Mo-Sys, Raccoon, Residence Pictures, and Singular.live.
Broadcast Tech attended one day of the school, finding around 100 engaged students (500 attended over the five days) taking part in the various activities and learning about an industry they may not have considered for their futures in the past. This comes at a time when the industry is struggling to fill positions, and there is a widely accepted skills shortage in many roles.
Students came from as far as Lancaster and Liverpool, as well as a strong local attendance, to come to the event, with plenty of positive comments coming from those taking part.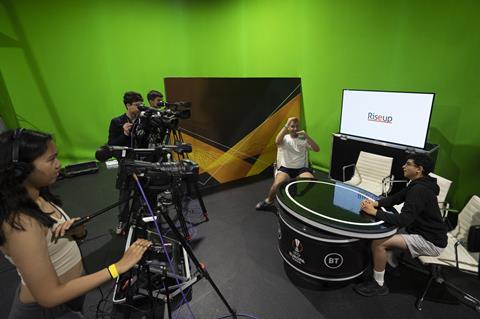 One student said: "When I came I had my heart set on something on radio, maybe radio presenting, but after coming here and doing some editing and green screen I was really interested in it. It does open your eyes, and there's so much more than what you know. There's a lot that goes on behind-the-scenes that you just don't see day-to-day."
Another mentioned: "It's very inspiring. It's satisfying in a way because because it's unlike your everyday school, where you wouldn't see people with the same creativity or the same interests as you."
Lord Kenneth Baker, who established a number of free-to-attend technical colleges including the Global Academy with the Baker Dearing Educational Trust, was also visiting the Rise Up Academy Summer School, and said of the initiative and the school's work to give practical skills to students: "Most of our students at 18 have got employability skills, which means that they've worked in teams, which we don't do in schools, they've made things with their hands or designed things, and done problem solving."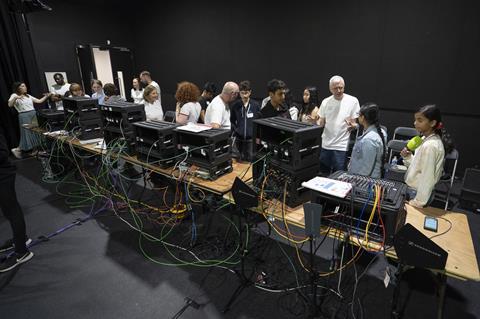 Andy Beale, co-founder of Rise Academy and head of engineering and innovation at BT Sport, said: "The drive toward greater diversity and inclusion in our industry is a fundamental objective of the Rise Academy, and providing free hands-on experience to students through our Rise Up Academy Summer School is an exciting new initiative, in our bid to use our reach to inspire and educate local youngsters about opportunities in our exciting broadcast media industry.
"I would like to thank all of the sponsors for their incredible support which has enabled us to launch this new Rise Up Academy Summer School event this year. I am sincerely grateful for the support from our 100+ volunteers from our industry whose contribution is greatly appreciated."
Carrie Wootten, managing director at Rise, added: "We are extremely excited to be embarking on this incredible new initiative. Our mantra of #inspire #educate and #inform will be weaved throughout the 4 days of workshops and I can't wait to see how the young people respond.
"I would like to thank our delivery partners, who have come on board with a crazy idea to reach over 500 young people in a week, delivering hands-on practical sessions - this wouldn't be possible without their support, dedication and drive to change our industry."